ICYMI: 9/11 Families' Letter Highlighting Saudi "Sportswashing" & American Golfers' "Betrayal" Roils Inaugural LIV Golf Weekend
PGA Commissioner Responds to Family Letter Noting Personal Losses on 9/11, While Phil Mickelson Dodges Post-Match Press
Unanswered questions from the American golfers who joined the Saudi-funded LIV Golf tour as well as a remarkably cold and tone-deaf response from event winner Charl Schwartzel, who said he's never considered who pays him, roiled the opening LIV event in London and raised questions for future tour events. Notably, the highest profile American golfer Phil Mickelson refused to speak to the press following the LIV Golf event or address the issues raised by the 9/11 families.
9/11 Families United, a coalition of more than 3,000 families and survivors of the worst-ever terrorist attacks on American soil, is continuing to object to the decision by Mickelson and other American golfers to join the Saudi-funded LIV Golf league. On Friday, they sent a letter to the agents of Patrick Reed – Phil Mickelson, Dustin Johnson, Bryson DeChambeau, and Kevin Na – expressing the 9/11 community's outrage at the betrayal by the American golfers who chose to participate in the Saudi-funded LIV Golf tour.
Both the golfers and the Saudi-funded LIV Golf tour, which hired high-priced, former White House Press Secretary Ari Fleischer to handle communications, came under fire throughout the weekend.  Here's a sampling of headlines:
On Sunday, PGA Tour commissioner Jay Monahan also addressed the LIV Golf controversy in an interview with CBS' Jim Nantz, who specifically asked about the 9/11 Families United letter.  Monahan noted that he had two families close to him who lost loved ones on September 11, and then turned the question back to the LIV golfers and asked, "have you ever had to apologize for being a member of the PGA Tour?"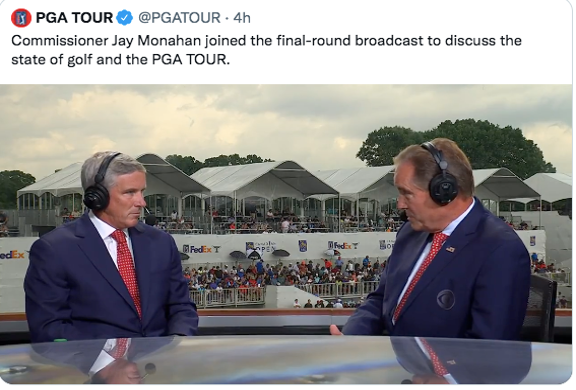 9/11 Families United National Chair Terry Strada, whose husband Tom died in the World Trade Center's North Tower, gave an interview to NBC's TODAY Show Sunday morning in which she called the Americans' participation an insult and a betrayal. She explained how the Kingdom of Saudi Arabia is engaging a "sportswashing" campaign by using the game of golf to improve their government's image on the world stage.
In an interview with ESPN's Kevin Van Valkenburg, Strada also said:
"My husband was a scratch golfer. He was a Phil Mickelson fan. He even tried to be a pro before he worked on Wall Street. My youngest is the captain of his golf team. Our family understands the integrity that the sport requires. But these guys are not interested in any of that. They're sportswashing… They're just trying to buy respectability for the Kingdom. They're boasting about taking millions for their family while my family is still reeling from the impact of being a victim of a terrorist attack. It's really hurtful."
Notably, all of this just comes just weeks after thousands of pages of new evidence against the Kingdom have been released as the result of President Biden's declassification order last year, after being kept secret by the U.S. government for years. The majority of these documents were not available to the 9/11 Commission. CBS News, for example, reported in late April that the documents reveal how a Saudi intelligence operative – who was on the payroll of then-Ambassador Prince Bandar bin Sultan and who is still living freely in the Kingdom – was a key part of the hijackers' U.S-based support network.
9/11 Families United is also continuing to press President Biden, urging him to ensure that his Administration's engagement with Saudi officials, including an upcoming visit to the Kingdom, does not neglect long-overdue accountability for the Saudi role in the rise of al Qaeda and 9/11 attacks. 
Click Below to Watch Terry's TODAY Show Interview on Sunday, June 12th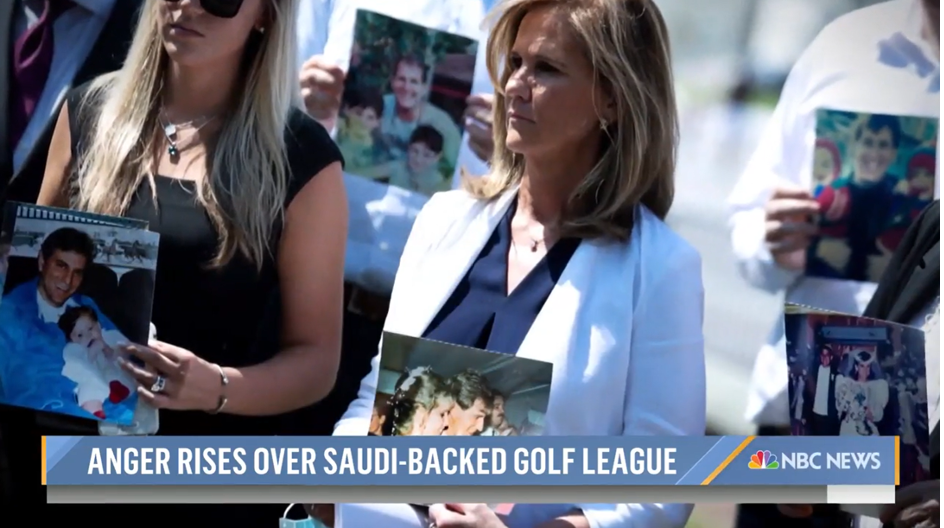 ###
About 9/11 Families United:
9/11 Families United is an organization of family members of those murdered in the terrorist attacks of September 11, 2001, as well as many of those who survived, were injured in, or sickened from the attacks—a community of more than 10,000 people. More background and contact information can be found at www.911familiesunited.org.