ICYMI: 9/11 Families United's Terry Strada Calls on President Biden to Support September 11 Transparency Act
Says legislation is needed to hold the Saudi's accountable and prevent future state funding of terrorism
Washington, D.C. – As the 20th anniversary of the worst-ever terrorist attack on American soil approaches, Terry Strada with 9/11 Families United whose husband Tom died in the World Trade Center's North Tower, gave an interview to Newsmax this weekend in which she urged the President to support the September 11th Transparency Act of 2021. This bipartisan legislation would help provide the American people a full accounting of the 9/11 attacks. This interview follows an op-ed that Strada penned in USA Today that called on the President to honor the commitment his Administration made on his first day in office "to bring transparency and truth back to government — to share the truth even when it's hard to hear…."
The September 11th Transparency Act of 2021 was recently introduced by Senators Menendez, Cornyn, Schumer, Grassley, Blumenthal and others but the White House has thus far declined to comment on the legislation. It requires the U.S. government to conduct a complete declassification review of investigative files relating to foreign government support for the first arriving 9/11 hijackers and terrorist attacks of September 11, 2001. This new legislation represents Congress's fulfillment of the promise of the Justice Against Sponsors of Terrorism Act (2016), which provided a clear path for terrorism victims such as the 9/11 community to pursue justice through civil litigation against foreign states.
Click Below to Watch Terry's Interview on Saturday, August 28th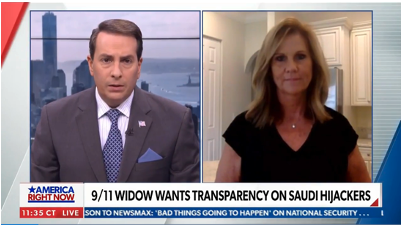 Key Excerpts:
"[W]e have had an epic failure for many administrations leading up to 9/11. Starting with President Clinton when he refused to take out Osama Bin Laden which led to the 9/11 attacks. And when President Bush came out and said there was no state sponsors of the attacks, that's when the lies and the cover up began…President Obama continued when he vetoed the Justice Against Sponsors of Terrorism Act. And following that, then we had President Trump and we met with him…and AG Barr went ahead and put state secrets across the board on many documents…So, here we are with President Biden can change all of that."

"I am praying that he will and that we will rip this band aid off and expose the Kingdom for what they do, which is support terrorism. I am scared to death with what's happening in Afghanistan with al-Qaeda back on the rise. They and the Taliban will go back to their coffers and then go straight back to the kingdom to get all the funding that they need."

"I am very much afraid that there will be attacks in the United States if we do not stop the funding and get very tough and put really strict consequences on any nation that supports terrorism."
About 9/11 Families United:
9/11 Families United is an organization consisting of family members of those murdered in the terrorist attacks of September 11, 2001, as well as many of those who survived, were injured in or sickened from the attacks, a community that numbers well over 10,000.
###